How To cook a Hangi – the Traditional Maori Way?
Your search for quality Hangi information is over! You have found it! The Complete Hangi Guide is the MOST comprehensive hangi resource available.
A few years ago, I wanted to put down a Hangi for a party I was hosting – but I had absolutely no idea how to do it.
So, I searched the internet for Hangi resources, but the information I found was nowhere enough to absolutely ensure success.
I mean the basic steps were there, but the one thing I did know, was that a Hangi is a very temperamental process and easy to stuff up.
If I stuffed this Hangi up I had never lived it down. Plus, I had 30+ hungry people to feed, that's a lot of Fish & Chips!
The really good news is that I videoed the whole thing and took heaps of notes! Since then I have done loads of Hangi's on my own and I have learn from my own mistakes. So NOW I have written this Hangi Guide, especially for you guys! It includes all of the important information that you won't find anywhere else, but you NEED to know! Such as;
Your Hangi Spot
Not ALL soil is created equal! I will tell you how to carefully choose your Hangi spot and what type of earth is the best for putting down your Hangi.
Hangi Basket
The size and shape of your Hangi basket is VERY important! All the info is in here plus I will also tell you the best places to buy them.
Hangi Rocks
Hangi rocks are probably the most important factor in your Hangi success. I will tell you the geological classification of the rocks you will need including full high-resolution color pictures so you can identify the right Hangi stones easily.
No matter WHERE YOU ARE IN THE WORLD, I will tell you where you can find the right Hangi stones – and more importantly how you can identify them once you find them.
I have also discovered 3 amazing places that you can find Hangi stones that I guarantee most people, including myself, would never have thought of!
No Hangi stones? Some places in this world just don't have stones. No worries! I will tell you 3 alternatives you can use to make sure your Hangi gets done. If you want a Hangi – you shall HAVE your Hangi (I did one while I working in Nigeria once!).
Wood
You will discover which wood gives the best taste. Plus, I will tell you the which types of timber make the best fire and which combination of both is preferable for your Hangi fire.
I will also tell you exactly how much wood you will need and how you should stack the different combinations of wood with your stones.
Hangi Sacks, Cloths and Tools
An exact list of the necessary materials you will need including dimensions, how many you will need and where you can find them.
Hangi Food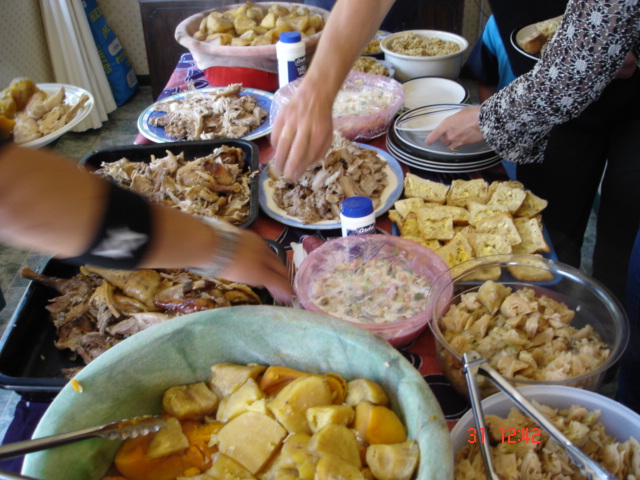 A complete list of the meat and vegetables you SHOULD have in your Hangi, as well as a few things you should never include. Also, how to pack your food into your Hangi basket so it does not burn on the bottom.
Recipes are also included for stuffing, steam puddings and fried bread, YUM!
Hangi Guide Bonus Materials
I am currently offering 2 additional add-ons as part of the package absolutely FREE. I update and add new material regularly which you can access anytime! You have access to this material for life when you get this guide.
Hangi Steam Pudding Recipe
A Hangi Steam Pudding makes a very nice addition to any Hangi. These magical little morsels are usually cooked in a can or other vessel with tin foil over the top. Serve hot with cream or custard as a desert to really finish them off!
Fried Bread Recipe
Delicious fried bread is the perfect accompaniment for ANY Hangi. Served fresh with a little butter melting inside is a taste you won't soon forget.
Click here to get Hangi Guide – How To cook a Hangi the Traditional Maori Way